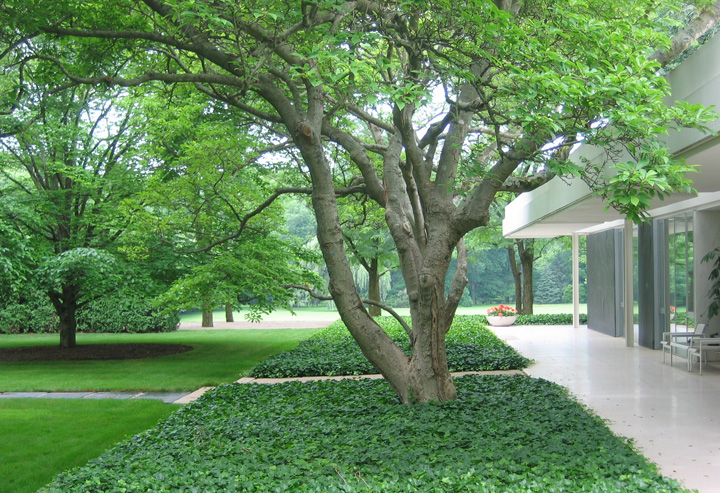 Miller House and Garden, designed by Eero Saarinen, 1957.
News about "Back Home Again in Indiana"
Convention news by Bob Sipes (PF-1067)
2016 Convention Host
Come to the Horatio Alger Convention, in Columbus, Indiana, April 28 to May 1, 2016! We welcome anyone interested in collecting children's series books, dime novels, story papers and related collectibles. We're looking forward to seeing old friends, making new ones, and having a great time.
The Dates and the Hotel
"Back Home Again In Indiana" will be the 52nd annual HAS convention. It takes place April 28th through May 1st, 2016. The location is the Holiday Inn Express in Taylorsville, just a couple of miles north of Columbus. It's on I-65 at Exit 76.
We chose the Holiday Inn Express in nearby Taylorsville for multiple reasons, two of which are located next door. The first is the Edinburgh Premium Outlets Mall, which is a short walk away and features approximately 85 stores for your retail shopping pleasure.
The second is the Exit 76 Antique Mall that many of you have experienced from our previous two conventions. This time, "The Finest Antique Mall in the Midwest" is a short walking distance from the hotel and contains more than 600 booths containing the mundane to the unique and unusual items. There are many booths dedicated to or containing books!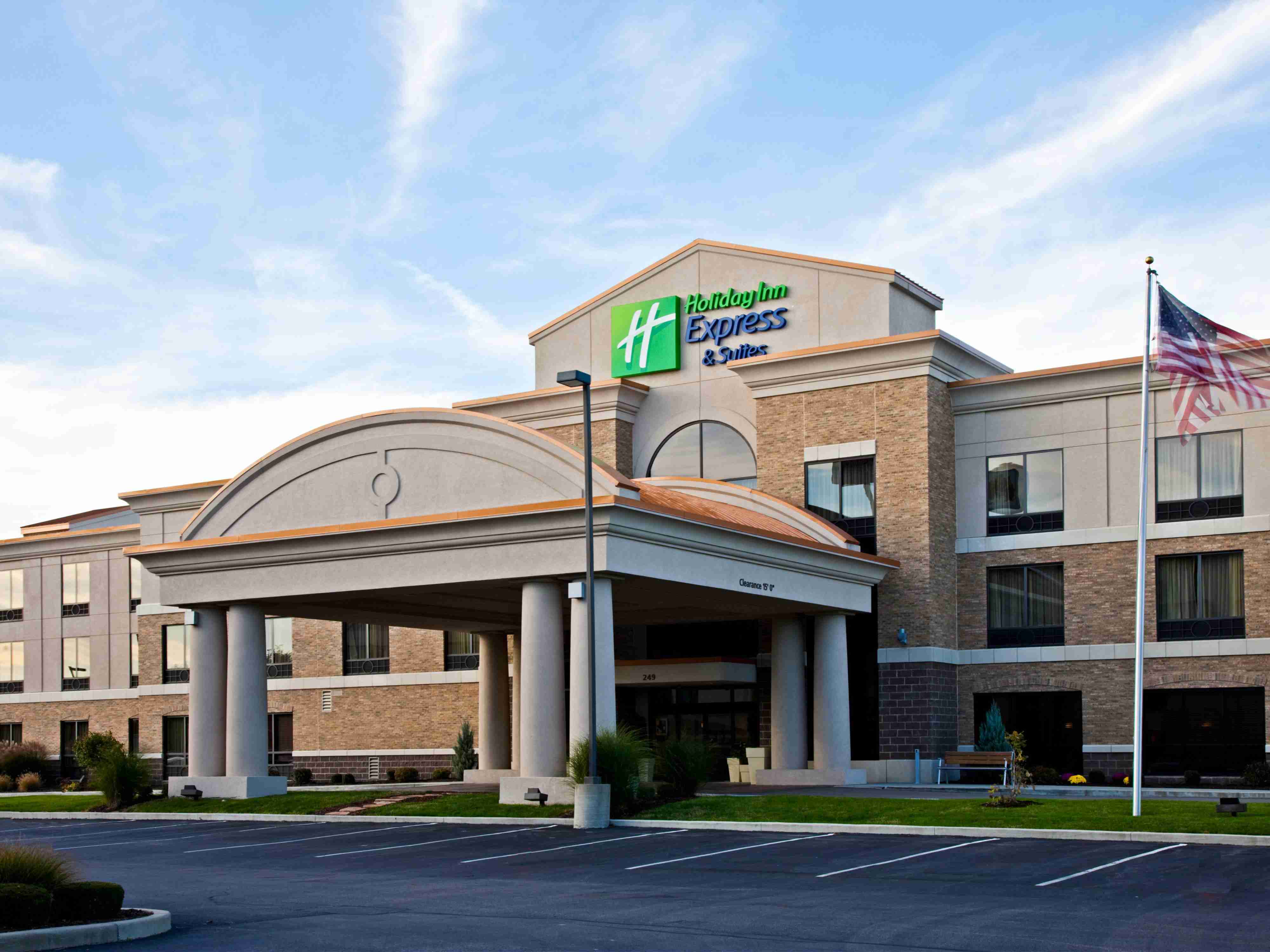 The Schedule and Events
Click here for the schedule of events. The very able Bill Gowen and at least two other speakers will be presenting book and author-related topics on Friday morning. These presentations are always informative and entertaining.
Our annual book auction is Friday afternoon and there's a book sale Saturday morning. We anticipate a good number of quality books for both the auction and the book sale.
Click here for a downloadble registration form.
The Town
Columbus is a relatively small town, well known for its modern architecture. So well-known, in fact, that National Geographic Traveler ranked it 11th out of 109 historic U.S. destinations. The magazine says Columbus has "a world-class collection of modern architecture by master architects ... it is authentic, unique, and unspoiled ... this town is truly part of America's architectural heritage."
J. Irwin Miller, past CEO of Cummins, Inc. (which has its headquarters in Columbus) instituted a program in which Cummins funded architects' fees for new building projects. He conceived the idea following a couple of failed attempts to design a new local school. He offered to pay for the design if one of five architects he selected was used, although he would take no part in the design.
That project's success initiated a program that has since created a large number of architectural landmarks. In 1987, Miller stated "It is expensive to be mediocre in this world. Quality has always been cost effective. The tragic mistake in history that's always been made by the well-to-do is that they have feathered their own nests. Today we know that society does not survive unless it works for everybody." The architecture which Columbus, Indiana, is known for may have been partially funded by Irwin's program, but ultimately is a community effort to express the values of the community itself. In 1953, Miller and his wife, Xenia Simons Miller, commissioned the Miller House and Garden in Columbus (picture at the top of the page), designed by the eminent Finnish architect Eero Saarinen and designated a national historic landmark in 2000.
The Sights
If you're attending with children, the Kidscommons Community Children's Museum in Columbus has much to offer, including a climbing wall, a computer lab for creating videos and music, a childhood garden full of Indiana wildlife sights and sounds, multiple interactive exhibits teaching health, housing, architecture, art and much more.
Nashville, Indiana is just a short drive (20-30 minutes) from Columbus. It's located in beautiful Brown County near Brown County State Park and is the center of the Brown County Art Colony, started in the early 20th century by many notable resident artists, including T.C. Steele. Nashville has a large number of artisan, antique, and specialty shops, art galleries, and more than 25 unique local restaurants.
There's also is the IU Lilly Library, on the Indiana University Bloomington campus, just a short distance from Nashville and home to an excellent children's book collection, including The J.K. Lilly collection. The collection includes many of the Castlemon books Jacob Blanck referenced in writing "Harry Castlemon Boys' Own Author," along with a fabulous Henty collection, the Elizabeth Ball children's book collection, and many others. For those in academia, this library is less than an hour away from Columbus and poses an excellent opportunity to schedule some research prior to or following the convention.
Registration and Hotel Reservations
Click here for a downloadble registration form.
Make your Hotel reservations as soon as possible by calling the Holiday Inn Express directly. (Please note the address for the hotel is "Edinburgh.") The hotel phone number is (812) 526-4919.
Please tell the hotel that you are with the Horatio Alger Society to ensure that you get the special convention rate of $99. This rate includes free wireless, newspaper, and an excellent continental breakfast. The rate applies for your entire stay, including any preceding and following dates. (Please note that the block of rooms held for our use will expire on the March 27.)
A Great Event for All Lovers of Series Books
HAS members and non-members are welcome to attend. We will have interesting and entertaining presentations focused on Horatio Alger and other boys and girls series books and authors. As evidenced by Newsboy content over the past 15 years, many of our members are interested in far more than just Horatio Alger. We are broadening the scope of the convention to appeal to collectors of all types of vintage boys and girls series books.
New Publisher/Title List!
A new comprehensive index of all Alger publishers and the titles they issued is coming soon! It will contain all known first edition and reprint titles for each publisher. MANY PDF FILES ARE ALREADY IN PLACE! Click here.
Full Books Available in the Archive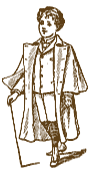 90 Titles Online
As work continues on the HAS website's Archive section, more and more of Horatio Alger's works are becoming available to read online for free. Click here to read the available titles.
The Full Books section now has links to every Horatio Alger novel currently available to read online. We are still missing 44 titles, which have not yet been converted to a digital format, but you can still visit their pages to find out where to buy a reader copy online. Short Stories and Poetry will be up soon as well, and Alger's essays are becoming available.